Home / About B&B / Picture tour / Evening meals /Availibility / Other services / Places of interest / Special offers / How to find us / Guest's book / Contact
Tel: (0033) 555 69 75 37 or (0033) 661 73 42 11
CLOSE BY

Trouver une activité, un lieu de visite...

Patrimonie et visites
SAINT-LEONARD-DE-NOBLAT

VLAKBIJ Share
Het middeleeuwse Saint-Leonard-de-Noblat was een plaats waar de pelgrims op weg naar Santiago de Compostella overnachtten.Daar zijn de 13de-eeuwse huizen met hun beroemde sloten.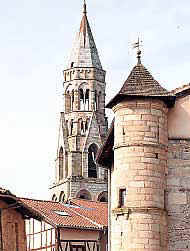 THIS medieval town, only a short drive from La Croix du Reh, was founded by St Léonard, a hermit in the Pauvain Forest in the early 6th century. With a growing number of admirable restorations of old buildings it's really a "must visit".
Don't miss the Collegiale Church, with its 13th century west doorway — outstanding for its "Limousin moulding" and the friezes on its column capitals. A series of diagrams explain the construction of the church. On the south side can be found the sacred relics, as well as the cover of a sarcophagus said to be St Léonards' tomb. Above this are hung prisoners' irons — St Léonard is the patron saint of prisoners, pregnant women and infertile women. According to legend, touching the irons will encourage a pregnancy!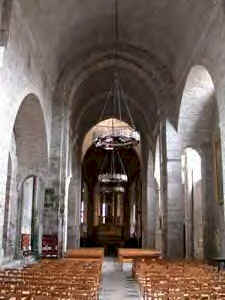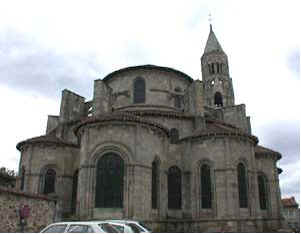 Guided tours of the town meet at the Tourist Bureau at 10:00 every Friday during July and August and by appointment the year round.

return to the Places of interest Page
B&B Limousin France/Bed&breakfast near Limoges/Chambres d'hotes en Limousin /Holiday Accommodation in Chateauneuf la Foret Bed and Breakfast between Limoges and Eymoutiers in Limousin
Copyright © 1999 La Croix du Reh bed and breakfast in Limousin France. All rights reserved.
Revised: février 02, 2012