bed and breakfast Limousin France - Limousin B&B - Limousin France holiday accommodation - Limousin France hotels - hotels Limoges - french holidays vacation in Limousin France - chambre d'hotes et table d'hotes en Limousin - Limousin special place to stay - Limouisn gites - Holiday in Limousin France - special b&b with an evening meal in Limousin France - anglo-french bed and breakfast in Limousin France - stopover Limousin - - english speaking french b&b Limousin Haute-Vienne, Creuse, Correze
Bed and breakfast Limousin France
Bed and Breakfast Limousin France/B&B near Limoges/Bed&breakfast Limousin France/Chambres d'hotes France Limousin(87)
Home / About B&B / Rooms and prices / Picture tour / Evening meal / Availibility /T&C / What to do in Limousin / Special offers / Access / Guest's book / Other services /Contact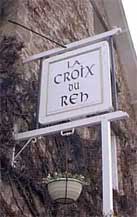 About our bed and breakfast in Limousin France
Cars, trains and planes to
La Croix du Reh
(DIRECTIONS, ADVICE AND USEFUL TIPS)
Av. Amedée Tarrade, 87130, Châteauneuf - la Forêt,France
Tel: (0033) 555 69 75 37 or (0033) 661 73 42 11
Bed and Breakfast Limousin France B&B near Limoges Bed&breakfast Limousin FranceChambres d'hotes France Limousin(87)
® Bed and Breakfast recommended by Gites de France, B&B Française
Bikers friendly Bed and Breakfast B&B Holiday Accommodation in Limousin France
BY AIR: The low-cost airline RYANAIR operates daily direct flights to Limoges Airport, about a 40-minute drive from La Croix du Reh. Flights can cost from as little as £35 return and are very much the cheaper if you book via the Internet and as far in advance as possible. Leave it until the last minute and the cost can sky-rocket. Flights to Limoges, currently using new and spacious Boeing 737-800s, flight time and number of daily flights are changing depending on the season.
DON'T MISS regular and new seasonal destinations

From Limoges To

Direct flights
BY ROAD: How to get to La Croix du Reh from the Channel ports or closest airports
BY RAIL: The French national rail network SNCF operates direct trains to Limoges from Paris Austerlitz. The journey takes almost exactly three hours and many services are non-stop.
BY AIR/RAIL (via PARIS): You can travel to La Croix du Reh quite cheaply using a combination of air and rail, which allows you to stop off in Paris en route.
d and Breakfast Limousin France Bed and Breakfast Limousin France Bed and Breakfast Limousin
B&B Bed and Breakfast B&B Bed and Breakfast b&b d and Breakfast Limousin France/B&B near Limoges/Bed&breakfast Limousin France/Chambres d'hotes France Limousin(87)bed and breakfast Limousin France bed&breakfast Limousin B&B France Limousin B&B Limousin France holiday accommodation Limousin France hotels Limousin France hotels Limoges french holidays vacation in Limousin France chambre d'hotes et table d'hotes en Limousin property in France b&b near Limoges France french property Limousin house in france limousin property limousin region france recherche d'une chambre proche Limoges search aol for a chambres d'hotes in Limosin France Accueil France Limousin Haute Vienne limousin limousin porcelaine Limousin bed and breakfast Limousin hotel and restaurant Limousin special place to stay Limouisn gites Holiday in Limousin France real Estate Limousin France special b&b with an evening meal in Limousin France anglo-french bed and breakfast in Limousin France Limousin property and Limousin property guide Limousin property overview Limousin property market and property services for the Haute-Vienne Creuse and Correze Limousin bed and breakfast Limousin hotel and restaurant Limousin special place to stay Limouisn gites Holiday in Limousin France real Estate Limousin France special b&b with an evening meal in Limousin France anglo-french bed and breakfast in LimousinBed and Breakfast B&B Bed and Breakfast B&B Bed and Bre
Bed and Breakfast Limousin France
Bed and Breakfast in Limousin France
Home / About B&B / Picture tour / Evening meals /Availability / Other services / Places of interest / Special offers / Guest's book / Contact
Bed and Breakfast Limousin France/B&B near Limoges/Bed&breakfast Limousin France/Chambres d'hotes France Limousin(87)
Limousin France/Bed&breakfast near Limoges/Chambres d'hotes en Limousin /Holiday Accommodation in Chateauneuf la Foret Bed and Breakfast between Limoges and Eymoutiers in Limousin
La Croix du Reh - B&B/Bed&breakfast/Chambres d'hotes/Holiday Accommodation, Bed and Breakfast in Limousin(87) France
Copyright © 1999 La Croix du Reh bed and breakfast in Limousin France. All rights reserved.
Revised: fйvrier 27, 2013